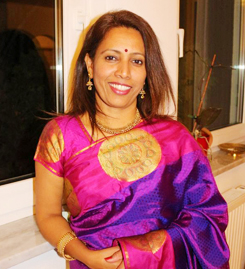 Dr. Vijayalakshmi Villadathu (Viji), is the Managing Director and Founder of Thakajum Indian Dance & Music Academy.
She is a trained Bharatnatyam dancer, she learned dance for several years, initially as a child from Guru Smt. Kala Govardhan and later from different dance schools under the guidance of various well known professional Bharatnatyam dancers.
Among other activities, she devotes her time to pursue her passion for dance as well.
She is the former President of Deutsch-Indische Gesellschaft (Indo-German Society) - Nürnberg Franken, 2013-2020, that fosters cultural and political exchanges between the 2 countries.
She is a member of the International Dance Council (CID c/o UNESCO, Paris, France).
Viji is an Engineer with an MBA and Doctorate in Business Administration with senior leadership positions in Telecom, Banking and IT Consulting Industry for more than 28 years and Adjunct Professor teaching IT and Business.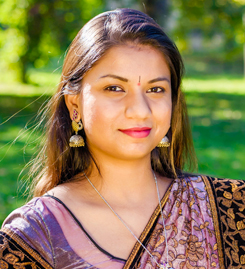 Vidushi. Vineetha Avadhooth, member of International Dance council CID, is a renowned Bharatanatyam artiste, trained under the tutelage of Guru Smt. Uma Rao (Kalakshetra style) and Guru Smt. Nandini Eswer (Thanjavoor style) for over 20 years.
She has performed in various prestigious events in India and abroad including Mysore Dasara, Hampi Utsava and German Media. She started teaching Bharatanatyam in Lalithakala Academy Mysore and founded Natya Taranga School of Dance. In Germany, she is enthusiastically bringing forward the art form through video productions, workshops and performances under the name of Nrityaalekhya. She also collaborates various productions with Kathak artists under the name Bharatakatha. She is learning Kathak under Guru Deodatt Persaud at Samvedan Kathak Studios, Nuremberg.
Vineetha is an engineer (M.Sc Information Technology) by profession and works as Team Lead (Software Verification, R&D) at Diehl metering GmbH.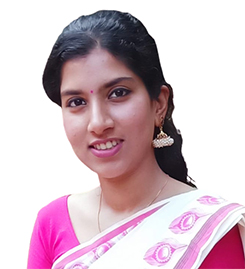 Saranya K Varma is passionate about Carnatic Music and has been pursuing the same under her Guru - Shri Keshavan Namboothiri for the past 10-12 years.
She has performed at several stages and won multiple prizes starting from her school days. Before moving to Germany, she used to participate in the Chembai Sangeetholsavam event which occurs every year. She also had the opportunity to sing in a devotional album titled "Krishna Neeye".
Saranya is an engineer by profession and is currently pursuing her Master's at the University of Erlangen.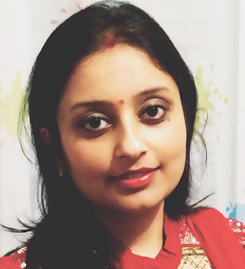 Moumita Ghosh Chatterjee is a trained Indian vocalist and possesses Sangeet Pravakar in classical music and Sangeet Bivakar in Nazrulgeeti from Allahabad University. Music is her passion and she believes that music can reach our soul and bring peace to our life.
Moumita is a versatile singer with training both in classical and modern music. Her musical training started at home at age three from her elder sister and later she was trained in classical music by Sri Pardip Bandopadhyay, a gold medalist vocalist from West Bengal, India. Furthermore, she was trained in Rabindra sangeet by Sri Avijit Bandopadhyay, a famous vocalist from Kolkata and in light music & in Nazrulgeeti by famous singer and musician Sri Subhankar Bhaskar.
Her ongoing musical journey began at the age of five by performing on various concerts followed by her performance as a child artist in All India Radio at the age of twelve. So far, Moumita has performed in a number of concerts and television channels namely: Doordarshan, ETV, Tara Music, Akash Bangla, etc. Moreover, she has also performed in international platforms including USA Indian Festival, CCI Cincinnati, COBCA Ohio, and NJPA New Jersey; and recently in Germany in DPF Erlangen, Spirit for Life Yoga Festival Plankenfels, Diwali Nuremberg 2019, DIG Nuremberg, etc.
Moumita loves sharing her musical knowledge with others and she believes in what rightly said by Pablo Casals: "Music is the divine way to tell beautiful, poetic things to the heart"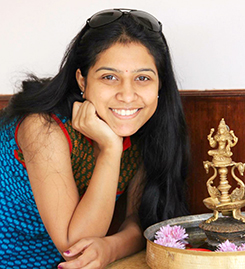 Mrs. Swetha Chittoju is the Dance Co-ordinator at Thakajum. She is a Bollywood freestyle Dancer and has been performing since a very young age and took part in many dance competitions at State level.
Being a dance enthusiast she attended many workshops and is a performing artist. She believes Dance is the way of feeling the Joy, a medium of expressing the emotions and art that involves your body and soul.
Swetha is currently training herself in Kathak and she holds a degree in MBA.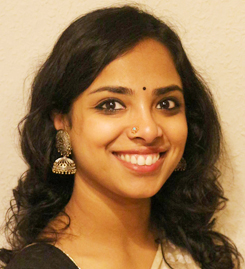 Geetha Ravindran is a coordinator at Thakajum. She has done folk and semi-classical dance performances from the age of 5. While also performing on behalf of Thakajum, she helps in bringing together the performers and addressing any specific needs.
She is an engineer by profession and a student of dance for life.
Thakajum Indian Dance & Music Academy as an institution is a member of International Dance Council (CID c/o UNESCO, Paris, France)